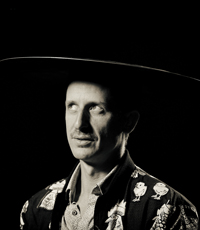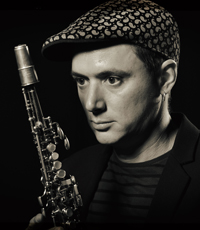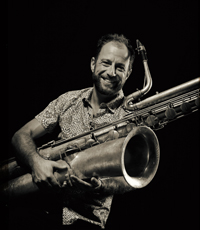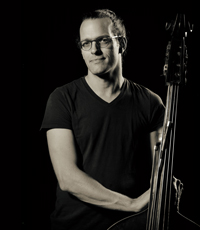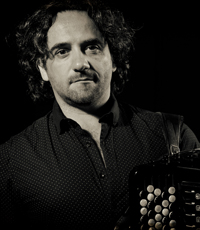 Antonin Leymarie is a drummer on stage, in the ring, and on the road.
His music is bold and edgy yet playful.
Playing on a wire with the Surnatural Orchestra, for the Colporteurs circus troop, or with Compagnie Impérial, he also composes and produces for theatre, working with Joël Pommerat's Louis Brouillard company. He takes pleasure in surrounding himself with individuals who are perpetually in motion – it is his way of sharing his music with the world.
Impérial Orphéon
Impérial Quartet
GRIO
Impérial Pulsar
baryton, alto and sopranino saxophones
Sabatier started playing the alto saxophone at the age of 7, developing his style on the baritone and sopranino. He graduated with a classical degree from the ENMD in Valence in 1996 where he studied under J-P Bouvatier. He obtained a DEUG (university diploma) in musicology from Lyon 2 University, and a DEM (higher music diploma) in jazz at the CNR in Lyon.
During his studies, he came into contact with musicians such as Jean-Marc Padovani, Willem Breuker, Denis Badault, Michel Massot, Laurent Dehors, and Louis Sclavis. Starting out in the street with Gérald Chevillon, and establishing the "Achille Blick " trio with him, he then met Etienne Roche with whom he has been working since the 90s on projects including "Grotorkestre", "Besace", "Kousmine Pichon", and " Musicabrass".
Since 2002, he has been working on a regular basis with Laurent Dehors in the "Tous Dehors" orchestra.
Impérial Orphéon
Impérial Quartet
D&G
Impérial Pulsar
GRIO
La Cité sans voile
bass, tenor and soprano saxophones
For over 20 years, from the moment he founded the Achille Blick trio up to establishing Compagnie Impérial, he has been wholeheartedly pursuing his study of the saxophone, in particular with long-term ally Damien Sabatier.
Classical musician turned improviser, he takes great delight in reinventing forms of self-expression on his instruments and searching for new ways of playing, new collaborations with other artists and with the audience – in projects where commitment, mutual understanding, and a spirit of invention are, for Chevillon, the markers of a successful musical encounter.
Impérial Orphéon
Impérial Quartet
D&G
Impérial Pulsar
GRIO
La Cité sans voile
A remarkable and uncompromising musician, his adventurous nature and love of improvisation has led him to collaborate with Finnish musicians such as Aki Rissanen, Mandika musicians with Impérial Pulsar, and even contemporary quartet Quatuor Bela.
He has recently been involved in Marc Ducret's and François Corneloup's latest projects, as well as transatlantic network "the bridge". He receives regular invitations to give solo performances, and in 2016 released his first solo double bass record "After Science".
A permeation of styles and the exploration of new sounds on his instrument are at the heart of his work.
Impérial Quartet
Impérial Pulsar
GRIO
A big-hearted musician unconstrained by genre, he is as much a lover of jazz as of Italian songs and opera.
Originally from Crete and living in St Etienne, he began his musical training with his father, an accordion teacher. His attraction to singing led him to take classes with Madame Nicolas, and then to work with Evelyne Brunner. Numerous concerts then followed, where he interpreted a wide variety of roles (Dialogues of the Carmelites, Cosi Fan Tutte, and Madame Butterfly).
Impérial Orphéon
La Cité sans voile